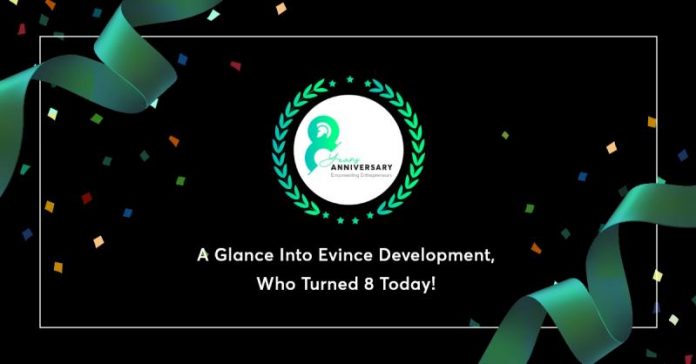 Evince development has come a long way from a stand-alone client and a cluster co-working place to a multitude of clients and a state-of-the-art development centre. Since its inception in 2012, the company has grown from a handful of employees to 120+ team members today.
A steep learning curve with ups and downs along with a passion for overcoming challenges has quickly lead to operational supremacy. It distinctively led the company to acquire more projects while maintaining a 97% successful delivery ratio keeping its service level agreement (SLA) intact with its clients. None of this would have been achievable without a skilful & knowledgeable team of employees, project managers, and team leaders.
From just the website design & development, the portfolio of the company started to gain momentum into the Growth consulting, various mobile app development and Digital Marketing arena. Delivering custom solutions such as transport & logistics apps, music & entertainment apps, shopping & e-commerce, travel & hospitality, and much more became the new norm for Evince Development.
The Present
Recent years have created a strong-wave of movement within the company for developing on-demand app solutions. Thus, "the 8th anniversary marks a benchmark as we have come up with the launch of brand 'Eatance' – powered by Evince Development", as quoted by the founder & CEO, Mr Maulik Pandya. At the moment, Eatance's prime focus is to empower startup entrepreneurs through Digital transformation in the online ordering & delivery app for restaurant, pharmacy, liquor segment and many more. The Brand Eatance will be a digital helping hand in the pandemic with bespoke products and excellent A to Z services.
Evince Development is about delivering growth to clients across the world and creating a milestone in the global digital landscape. The company has also received recognition on trustworthy platforms such as Designrush & Clutch for the best web design company and top e-commerce developers and B2B companies in 2019.
On the contrary, it's also not all about only the work. It is also about the people of EvinceDev, their passion, and to realize & reward their dedication. This brings them altogether from time to time for the rewards & recognition celebration to spark healthy competition among team members.
What's Next?
The company is going to concentrate on delivering future-ready solutions while improving operational excellence for intra-day functionalities. With the launch of Eatance, the organisation shows its commitments to support Entrepreneurs, Startups and small vendors in Covid19 lockdown. The company is also ensuring to take all measurements to scale on tools and technologies to provide better products and services in the coming days.
387 Park Avenue South, 5th Floor, New York City, New York 10016, US
EvinceDev (Evince Development) Is a Top Rated Globally Integrated Digital Innovation Agency Disrupting the Market with Years of Sophisticated Experience and A Dauntless Moto of "Delivering Growth by Accelerating Digital Transformation". Inspired by The Spartan Community, Evince Has Established Its Steeping Pillars of Commitments, Ethics, Integrity, Innovation and Strategical Approach.
This release was published on openPR.