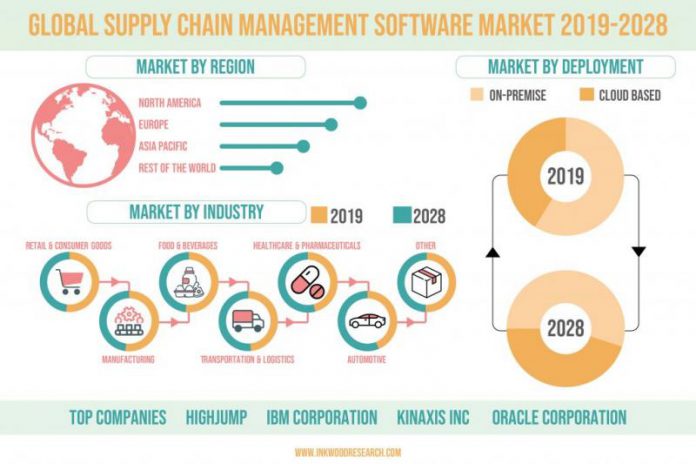 According to a new market research report launched by Inkwood Research, the Global SCM Software Market is anticipated to generate $35176 million by 2028, propelling at 10.2% of CAGR during the forecast period.
Browse 57 market data Tables and 53 figures spread over 227 Pages, along with in-depth analysis on Global SCM Software Market by Organization Size, Type of Solution, Deployment, Industry & by Geography
This insightful market research report by Inkwood Research focuses on market trends, leading players, supply chain trends, technological innovations, key developments, and future strategies. The report covers all the aspects of this comprehensive market, by assessing major geographies, and is a valuable asset for the existing players, new entrants, and future investors. The study presents a detailed market analysis, with inputs derived from industry professionals across the value chain.
Global SCM Software Market Scenario
Supply chain management (SCM) software is a real-time analytical platform fabricated to improve the overall management of the flow of product information in the supply chain network. The software helps in improving operations of the supply chain, with regards to transportation, managing production & product demand, sourcing, and inventory. The global market of SCM software is driven by factors, such as growth in the e-commerce industry, digitization in businesses, requirement for improvement in control over the supply chain, increased use of cloud solutions, and need for the demand management system. However, high costs and vulnerability to cyber risks are majorly restraining the growth of the market across the globe.
The Global SCM Software Market report provides data tables and includes charts and graphs for visual analysis.
Request Free Sample Report for Global SCM Software Market by Organization Size, Type of Solution, Deployment, Industry, Component & by Geography: https://www.inkwoodresearch.com/reports/supply-chain-management-software-market/#request-free-sample
Market Segmentation
Market by Component
• Services
• Solution
Market by Type of Solution
• Supply Chain Planning
• Procurement and Sourcing
• Manufacturing Execution System
• Warehouse Management System
• Transportation Management System
Market by Industry
• Manufacturing
• Automotive
• Retail & Consumer Goods
• Food & Beverages
• Healthcare & Pharmaceuticals
• Transportation & Logistics
• Other
Market by Deployment
• Cloud-based
• On-Premise
Market by Organization Size
• Large Enterprise
• Small & Medium Enterprise
Report Highlights
– The report provides a detailed analysis of the current and future market trends, to identify the investment opportunities
– Market forecasts till 2028, using estimated market values as the base numbers
– Key market trends across the business segments, regions and countries
– Key developments and strategies observed in the market
– Market dynamics such as drivers, restraints, opportunities and other trends
– In-depth company profiles of key players and upcoming prominent players
– Growth prospects among the emerging nations through 2028
Companies Profiled
• IBM CORPORATION
• EPICOR SOFTWARE CORPORATION
• SAP SE
• MANHATTAN ASSOCIATES INC
• BLUE YONDER GROUP, INC. (JDA SOFTWARE)
• ORACLE CORPORATION
• THE DESCARTES SYSTEMS GROUP INC.
• KINAXIS INC
• HIGHJUMP
• INFOR INC
Related Reports
GLOBAL ENTERPRISE RESOURCE PLANNING (ERP) MARKET – Global enterprise resource planning (ERP) market is expected to rise at 7.09% of CAGR during the forecast period.
GLOBAL PRODUCT LIFECYCLE MANAGEMENT SOFTWARE (PLM) MARKET – Global product lifecycle management (PLM) market is growing at a CAGR of 6.53% between 2020 and 2028.
Contact Us:
Inkwood Research
169, Harrison Avenue
Boston, MA 02111
Tel: +1 857-302-4704
Email: sales@inkwoodresearch.com
Website: www.inkwoodresearch.com
169, Harrison Avenue
Boston, MA 02111
We at Inkwood research provide you with not just consulting services but also with syndicated and customized research reports which help advance your business further. We help the client to make informed, calculated decisions by offering them relevant and fact based research studies accumulated from various diverse industries such as technology, healthcare, chemicals, materials and energy. Due to the in-depth analysis conducted by our dedicated team of researchers and analysts, we offer our clients strategic objective insights about the market. We regularly update our market research so that our clients are better equipped with the latest data which helps them to make calculated moves for gaining competitive advantage over their rivals. We cover more than 40 multi-country market, competitor, and customer intelligence studies for our clients which involves a complete understanding of the market size, segmentation, intelligence and opportunity assessment apart from the best strategy to enter a new market. We also help the customer with identifying their competitors as well as customer, pricing and sourcing intelligence to roust the competition.
This release was published on openPR.