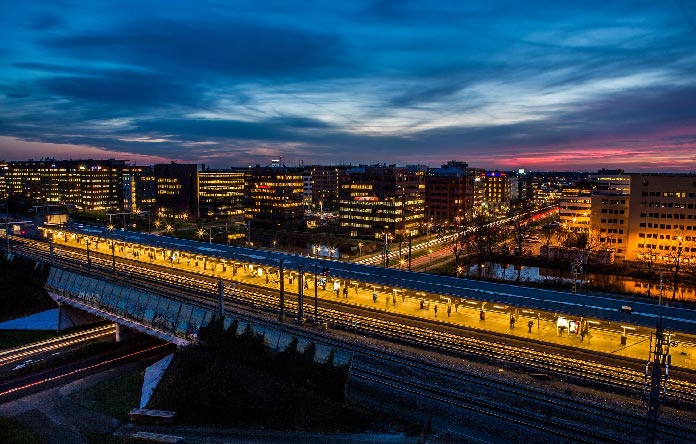 NEW DELHI — Twitter pushed back on Thursday against India's increasingly heavy-handed efforts to control online speech, calling on the government to respect freedom of expression and criticizing what it called "intimidation tactics" by the country's police.
The statement comes as the Indian government under Prime Minister Narendra Modi faces mounting pressure for its handling of a devastating second wave of the coronavirus. Many of those complaints have been aired on Twitter and elsewhere online.
The government has moved to reclaim the narrative. On Thursday, Twitter said it had received a notice of noncompliance with India's information technology laws. The notice asked the company to remove content critical of the government's handling of the coronavirus and about farmers' protests, including some posted by journalists, activists and politicians.
Under Indian law, Twitter's executives in India could face up to seven years in prison if the company fails to abide by government orders to remove content that it considers subversive or a threat to public order and national security.
In its statement, the San Francisco-based social media service said it planned to push leaders in India to change new regulations that have given the authorities greater say over online platforms.
"Right now, we are concerned by recent events regarding our employees in India and the potential threat to freedom of expression for the people we serve," the statement read.
Citing the new information technology regulations, it added that "we, alongside many in civil society in India and around the world, have concerns with regards to the use of intimidation tactics by the police in response to enforcement of our global terms of service, as well as with core elements of the new IT rules."
Twitter's statement came just days after officers belonging to an elite antiterrorism police unit visited the company's New Delhi offices, bearing a notice protesting the way the company had labeled posts by senior officials in India's ruling Bharatiya Janata Party, or B.J.P.
Those officials had posted documents on Twitter that they said provided proof that the opposition politicians were planning to use the country's coronavirus crisis as a political cudgel. Twitter labeled them "manipulated media" in response to accusations that the documents had been forged.
Even before the coronavirus hit, Mr. Modi's government and the B.J.P. had taken increasingly strong steps to curb dissent in the country of 1.4 billion.
In February, Twitter blocked over 500 accounts and removed an unspecified number of others in India after the government accused those accounts of making inflammatory remarks about Mr. Modi in connection with protests by angry farmers. The farmers have been camping outside New Delhi for at least six months protesting agriculture laws.
Twitter had earlier said it wouldn't take any action against accounts that belonged to media organizations, journalists, activists or politicians, and that it did not believe the orders to block those accounts were "consistent with Indian law."
But on Thursday, the company acknowledged it withheld some unverified accounts in those categories from view in India, even though it believed the content to be "legitimate free speech" under Indian and international law. The company said last week that it was reopening its verification process to allow government officials, media organizations, journalists and activists to apply for a blue check mark, a sign of credibility online, a process that has been on hold since 2017.
In April, Mr. Modi's government ordered Facebook, Instagram and Twitter to take down dozens of social media posts that were critical of its handling of the pandemic. The order was aimed at roughly 100 posts from opposition politicians and included calls for Mr. Modi to resign.
The new internet rules in India require social media companies to appoint India-based executives who could be held criminally liable for any violations as well as create systems to trace and identify the "first originator" of posts or messages that are deemed "offensive" by the government.
The rules apply to a wide variety of media, including digital news outlets, streaming services including Netflix and Amazon and social media platforms. Under the regulations, announced in February, the social media companies were given a deadline, which was Tuesday, to name the executives who could be held liable. Streaming services and news outlets were not affected by this particular rule.
Twitter called the requirement a "dangerous overreach that is inconsistent with open, democratic principles." On Wednesday, WhatsApp sued the Indian government in a highly unusual step by the Facebook-owned messaging platform, arguing the guidelines were unconstitutional. Lawyers and digital rights groups say the rules threaten to fundamentally change the way Indians use the internet.
"The IT rules are against India's democratic framework and constitutional guarantees," said Apar Gupta, the executive director of the Internet Freedom Foundation, a rights group. "Several requirements under them suffer from unconstitutionality and undermine free expression and privacy for millions of internet users in India."
Understand the Covid Crisis in India
India is not the only country that has sought to enforce stronger regulations on the internet. The moves have provoked questions about balancing free speech with safety and privacy.
In the United States, politicians have taken aim at big technology companies like Facebook and Amazon for their influence over what people buy and read, as well as how the companies handle users' personal data. European officials are working on new laws that would provide the government with greater authority to remove misinformation and other material considered toxic.
On Thursday, the Ministry of Electronics and Information Technology, the government arm in India that has been pressuring Twitter to take down material, posted a response to the companies' statement on Koo, a competing service.
"The new rules are only designed to prevent abuse and misuse of social media," Ravi Shankar Prasad, India's minister of electronics and information technology, said in the statement. "Government welcomes criticism including the right to ask questions."
In a separate statement on Thursday, the ministry criticized Twitter for its comments, calling them "totally baseless, false and an attempt to defame India." It also said protecting free speech in India was not the company's "prerogative."
Last week, the government requested that social media platforms, including Twitter and Facebook, remove all content related to coronavirus variants in India, particularly the posts that said the variants were spreading in other countries. Twitter confirmed that it had received the request, but hadn't removed the posts as of Thursday evening. Facebook did not immediately respond to a request for comment.
At least one of the variants first seen in India, known as B.1.617.2, is now outpacing all other versions of the virus in Britain, scientists in the United Kingdom have said, and is present in at least 48 other countries. The government request has called that assertion "completely false."
Free speech lawyers said that the government had no legal basis to ask social media platforms to remove that content, which could apply to news reports and important scientific discussions about the virus in India, where it continues to kill thousands of people a day, stretching the country's health care system far beyond its limit.
"The new rules are like a choke collar," said Devdutta Mukhopadhyay, a lawyer who works on free-speech issues in India. "The government will tug at it when it wants to."