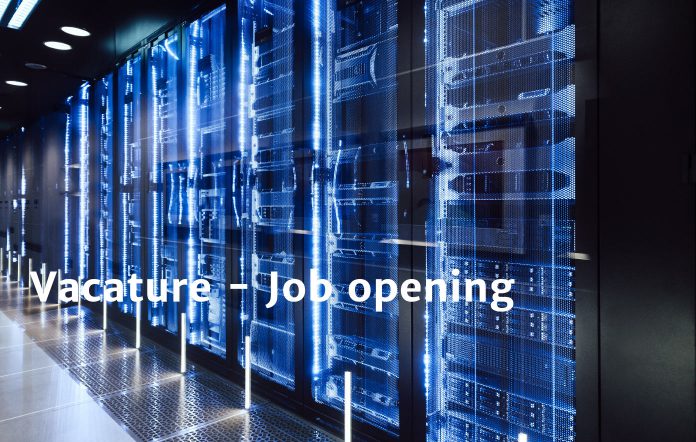 MK Digital is an ICT recruitment and selection agency specialized in the data center, cloud, telecom and hosting industry in the Benelux.
Thanks to our 14 years of experience and personal way of working, we have an extensive network of ICT professionals and top talents in the field of technology, sales, finance and marketing. This enables us to quickly match the right candidate with the right client.
Below you will find a vacancy of one of our clients. If you are interested in this vacancy, please apply directly using the form at the bottom of this page.
Do you think that a friend, family member or acquaintance might be interested, tip us off and receive 50% of our earnings as soon as we have found him or her a job, for more information, just give us a call or mail Mark at mark@mkdigital.nl!
Overall job purpose
We believe in building a better Internet to contribute to a better society. To build a better Internet, we need to be more relevant. To be more relevant we need to maintain and grow our business in Amsterdam, and to have a seat at the table of developing the Internet we need to grow our international footprint.
Innovation is run as a separate stream, led by the Innovation Manager, and utilizing resources where required. The Innovation Manager has the following key responsibilities:
• Enable innovation: Continuous improvement of Innovation Framework, create structures and processes so that innovation can happen in the organization
• Develop ideas throughout our Innovation Framework: create, test, scale, and renew ideas
• Capacitate the market to buy and therefore have the justification to scale up the MVP into a real sellable and deliverable product and/or service
• Manage the associated budget for Innovation
For innovation to be channelled and fuelled in the organisation, the following key components constitute the role of the Innovation Manager:
• Idea finder – ideas are generated from both internal and external sources (workshops, brainstorming sessions, innovation tools)
• Able to manage ideas to products – collect all ideas from all sources, expand on them, support them, create new ideas, and develop new ideas into MVPs.
• Innovation scout – be at the front of all out-of-the-box thinking
• Funding controller – examine whether an innovation project is worthy of funding
Key responsibilities
The required tasks
o Create new proposals
o Network with new and existing communities to generate new ideas
o Arrange brainstorming workshops
o Organize and mobilize teams to develop new ideas
The innovation goals
o Shift the traditional way of thinking
o Bring in diversity regarding the way in which the organisation thinks and operates
o Challenge existing practices to find better ways to be more streamlined
The focus of the innovation role
o Out-of-the-box thinking to keep bringing new ideas to the table
o Create new verticals of new technological topics that can be adopted internally
o Create new alliances with existing partners to alleviate the position of the organisation
Key internal collaboration partner(s)
● Works closely with Program Manager, and Regulatory & Compliance Officer
● Management Team
● Various internal teams depending on project
Key external collaboration partner
● External resources working on the development of ideas into MVPs
● Industry disruptors and innovative leaders who are looking to find new solutions to improve their interconnectivity.
● Thought leaders and design thinkers
● Customers and partners
Required level of education
● Bachelor's degree (BSc) in Business Administration, Marketing or Sales.
Required work experience (years)
● 5+ years in Telecom / Internet (Technology) / ecommerce industry
● 5+ years of proven successful track record of the listed responsibilities
Technical abilities and skills
● Creative mind
● Competent with Microsoft Office Suite (PowerPoint, Excel, Word, etc.)
● Strong organizational skills
● Experience with innovation lifecycle management (frameworks)
● Experience with Agile way of working
Behavioural competencies
Business-case orientated
• Working with a brief list of assumptions
Project-oriented
• Project management skills to follow multiple innovative projects
Able to manage failure & expectations
• Able to make others aware that 'the future is uncertain so seize the moment and keep trying'
Willing to change
• Take the first steps and inspire others to follow
Curious
• Willing to deep dive into new domains
Optimistic
• Obstacles are just a trigger for change
Fast & furious
• Never waste a good idea
• Willing to find shortcuts (done is better than perfect!)
• Fail fast principle
• Agile way of working
Strategically sighted
• Inspiring to others, clear vision
Metrics
● Creates an innovation strategy that is understood and endorsed by key stakeholders including executive leadership, employees, customers, and partners
● Builds a well-balanced innovation portfolio and roadmap that drives potential investments & new revenue growth
● Ensures the company is successful in taking its innovations to market in a timely and scalable way
● Uses innovation to differentiate the company in the market, provide unique value to customers and help build long-term relationships with customers
● Evangelizes innovation so the company is viewed as innovative, visionary and a market leader by customers, industry groups and media
Interested in this job?
You can send your application, consisting of a motivation letter and CV, to Mark Karsch via the application form at the bottom of this page. You can also contact Mark for questions about the position via mark@mkdigital.nl.
We are always looking for the candidate that most closely matches the above profile. However, if you are not fully meeting the requirements, but still think, that we should choose you – don't hesitate to still apply or contact us!