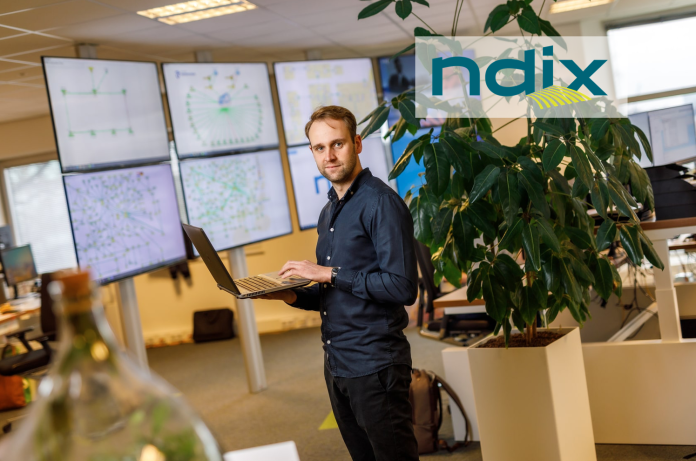 Dit bericht verscheen eerder bij Afiber
NDIX, the leading Dutch-German network service provider, has joined forces with Afiber in a collaboration aimed at maximizing network coverage and service. This collaboration enables both companies to leverage the benefits of each other's transport networks, resulting in a significant expansion of their combined network coverage.
NDIX has built an excellent reputation among companies and organizations that are looking for a reliable network to connect their users, data center infrastructure, and IT and network service providers. The providers of these IT services include a wide range of companies, such as cloud services, internet access, telephony services, payment services, and international network services.
"At NDIX, we are committed to providing fast, safe and reliable fiber connectivity to our business customers," said Peter Lenten, Commercial Director at NDIX. "In the current digital age, it is essential that businesses and their business information are always accessible, and we at NDIX strive to provide that guarantee."
The collaboration with Afiber will enable NDIX to expand its network coverage to data centers and industrial areas in the Randstad. As a result, NDIX can further improve its service by reaching and connecting more customers and service providers. Afiber also benefits from this collaboration by extending its transport network to data centers in Northern, Eastern, and Southern Netherlands, thereby offering its customers even better connectivity between data centers.

Afiber's network is connected to key data centers and various regional and national fiber optic networks. This extensive coverage allows Afiber to make independent choices for the corporate networks of their customers in terms of connectivity.

"What distinguishes NDIX is the extensive list of service providers connected to the NDIX network. For business customers of NDIX, this means that making a connection with connected service providers is easy, safe, and with guaranteed performance," said Dennis de Vries, VP Strategic Alliances at Afiber. "It's no longer attractive to use the relatively unsafe internet with its varying performances to reach, for example, cloud applications. We look forward to further developing this collaboration with the NDIX team."
This strategic collaboration between NDIX and Afiber promises improved coverage and enhanced network services for customers, while both companies strengthen their strong position in the network services market.
Interested in the possibilities and benefits that NDIX and Afiber provide for organizations? Contact dennis.de.vries@afiber.net or call 020-225 0025.
About Afiber
Afiber is an independent provider of fiber optic connectivity for business customers and service providers. We help organizations with the delivery and management of high-quality networks between branches, data centers, cloud providers, and providers of network and IT services.
Afiber offers business customers fiber optic coverage in a large part of the Netherlands. This fiber optic network is connected to the main data centers and various regional and national fiber optic networks. This enables us to make an independent choice for our customers for the right connectivity for your company network.
Dit bericht verscheen eerder bij Afiber