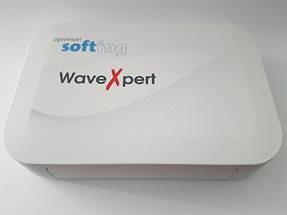 WaveXpert: WiFi Packet Capture Oplossing en Wifi Training
Als leverancier van Wireshark Tools introduceert SCOS Software de WaveXpert van Softing IT Networks, een wereldwijde specialist in industriële gegevenscommunicatie. De WaveXpert kan worden gebruikt voor het ontvangen en analyseren van wifi-dataverkeer (met Wireshark) die worden uitgewisseld tussen twee of meer gebruikers.
Wifi-dataverkeer, volgens de internationale standaard IEEE 802.11a / b / g / n / ac, kunnen worden weggeschreven naar een pc of Laptop. Wifi-apparaten waarvan het dataverkeer vastgelegd kan worden, zijn bijvoorbeeld mobiele apparaten zoals notebooks, smartphones of tablets, maar ook permanent geïnstalleerde apparatuur zoals WLAN-access points, WLAN-printers of pc's met WLAN ondersteuning.
De WaveXpert is beschikbaar in twee versies:
WaveXpert 1 – 2.4 en 5 GHz (3 kanalen met 20/40/80 MHz en tot 3 × 3 MIMO) en als
WaveXpert 2 – 5 GHz (4 kanalen met 20/40/80/160 MHz en tot 4 × 4 MIMO).
De specifieke toepassing van de WaveXpert is dat niet alleen gebruikersgegevens maar ook management- en besturingsinformatie verliesvrij kan worden gecaptured en opgeslagen voor verdere analyse. De unit werkt in de passieve modus, wifi dataverkeer wordt alleen ontvangen en er wordt niets verzonden.
De WaveXpert is ontworpen als een randapparaat voor pc's met een Thunderbolt 3-interface. De gegevens die door de WaveXpert worden verzameld, worden via de Thunderbolt 3-interface naar de PC/Laptop verzonden en worden weggeschreven naar de PC. Daar kunnen de gegevens worden weergegeven en geanalyseerd met Wireshark.
Voor de werking en configuratie van de WaveXpert zoals bijvoorbeeld de definitie van de ontvangstkanalen of van de kanaalbandbreedte wordt een USB stick meegeleverd met een User Interface en Linux Live-besturingssysteem voor de PC/Laptop.
Als Wireshark University Certified Training Partner for Europe, organiseert SCOS Software de officiële TCP/IP Analysis and Troubleshooting cursus en een cursus voor Wifi/802.11 Network and Security Analysis.