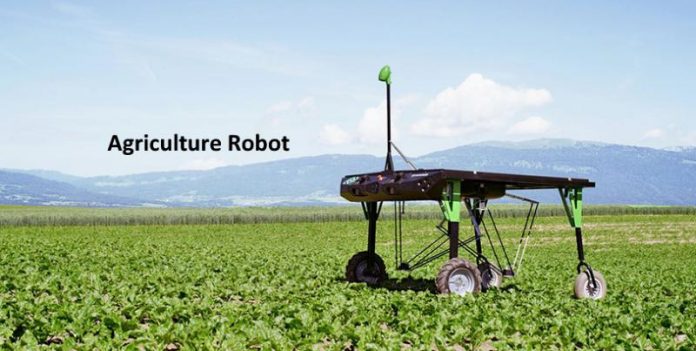 Agriculture is swiftly becoming an exciting high-tech industry, which is drawing new investors, new companies, and new professionals. As technology is advancing rapidly, it is also developing the production capabilities of farmers and advancing automation & robotics. Agriculture robot is thus proving to be the most useful machine in increasing production yields for farmers.
An agricultural robot is also known as an 'Agribot'. As per a Research Dive blog, the agriculture robot is designed and developed for use in the agriculture industry. The agriculture robots are fully automated to carry out tasks for farmers, which boosts the efficacy of production and also reduces the reliance on human labor. The agriculture robot is also capable of weed control, soil exploration, plant seeding, cloud seeding, environmental monitoring, and many more. Moreover, in order to carry out multiple tasks, these robots are equipped with a number of technological tools. One of the biggest advantages of agriculture robot is that it can operate 24/7, 365 days a year.
Connect with Analyst to Reveal How COVID-19 Impacting On Agriculture Robot Market: https://www.researchdive.com/connect-to-analyst/52
Recent Developments in Agriculture Robot Market
Already incorporated in many areas of farming work, the agriculture robots are still largely missing in the harvesting of several crops. Companies have now started to build robots that completes numerous tasks on the farm field and minimizes human work. The major concern over agriculture robots is the harvesting of soft crops such as strawberries. This type of crops can be missed entirely or damaged easily. In spite of these concerns, a progress in this area is being made.
The Florida-based company, Harvest Croo Robotics recently tested one of their strawberry pickers. This robot takes only three days to pick a 25-acre field, which replaces a crew of nearly 30 farm workers. Parallel development is being made in harvesting grapes, apples, and other crops.
Until now, the productivity of farming was measured in the time it took humans to do a task. Moving forward, the robot-to-human could become the new measure of productivity, i.e. the number of agriculture robots needed to do the jobs of human and support them by minimizing their efforts.
To monitor nearly 3 million egg-laying hens, the CP Group of China is using 18 "robot nannies". The robots of this third largest poultry business company by scanning the birds inform their human co-workers if a particular bird is not healthy. The aim of CP Group is to address the problem of reliability and food quality.
Click Here to Download Sample Copy of the Report at: https://www.researchdive.com/download-sample/52
A Chilean business, AgrIcola Ancali, is using 64 robotic machines from the Sweden's DeLaval to milk nearly 4,500 cows. This farm is one of the biggest robot-based milk production sites all across the globe. A 10% increase in milk production has been already seen by this farm.
A weed-killing robot in Australia is expected to save nearly $1.3 billion in terms of costs a year to the farmers. Still, there is a lot of refinement and research yet to be done.
Potential Future of Agriculture Robot Market
Global agriculture robot market is estimated to witness a positive growth during the forecast period. The lack of workforce for farming is predicted to drive the market growth from 2019 to 2026. With the help of agriculture robots, the farming work can be done faster and the cultivated food cab be obtained at a minimum span of time. However, the lack of understanding of new technologies and cost of the agricultural robots are considered to be the major factors restricting the growth of agriculture robot market.
Increase in demand for food supply, rising population, and growing use of vertical farming are some of the significant factors giving substantial uplift to the growth of the global market in the near future. As per the Research Dive report statistics, the global agriculture robot market is expected to reach up to $16,640.4 million by the end of 2026. Geographically, the Asia Pacific agriculture robot market is likely to dominate the industry owing to the favorable government initiatives and increased use of automation in farming in this region. Additionally, the report profiles top gaining players operating in the global market who are focusing more on product development and R&D activities to increase their market size in the global agriculture robot industry.
Mr. Abhishek Paliwal
Research Dive
30 Wall St. 8th Floor, New York
NY 10005 (P)
+ 91 (788) 802-9103 (India)
+1 (917) 444-1262 (US) Toll
Free : +1 -888-961-4454
Email: support@researchdive.com
LinkedIn: https://www.linkedin.com/company/research-dive
Twitter: https://twitter.com/ResearchDive
Facebook: https://www.facebook.com/Research-Dive
Blog: https://www.researchdive.com/blog
Follow us on: https://covid-19-market-insights.blogspot.com
About Us:
Research Dive is a market research firm based in Pune, India. Maintaining the integrity and authenticity of the services, the firm provides the services that are solely based on its exclusive data model, compelled by the 360-degree research methodology, which guarantees comprehensive and accurate analysis. With unprecedented access to several paid data resources, team of expert researchers, and strict work ethic, the firm offers insights that are extremely precise and reliable. Scrutinizing relevant news releases, government publications, decades of trade data, and technical & white papers, Research dive deliver the required services to its clients well within the required timeframe. Its expertise is focused on examining niche markets, targeting its major driving factors, and spotting threatening hindrances. Complementarily, it also has a seamless collaboration with the major industry aficionado that further offers its research an edge.
This release was published on openPR.