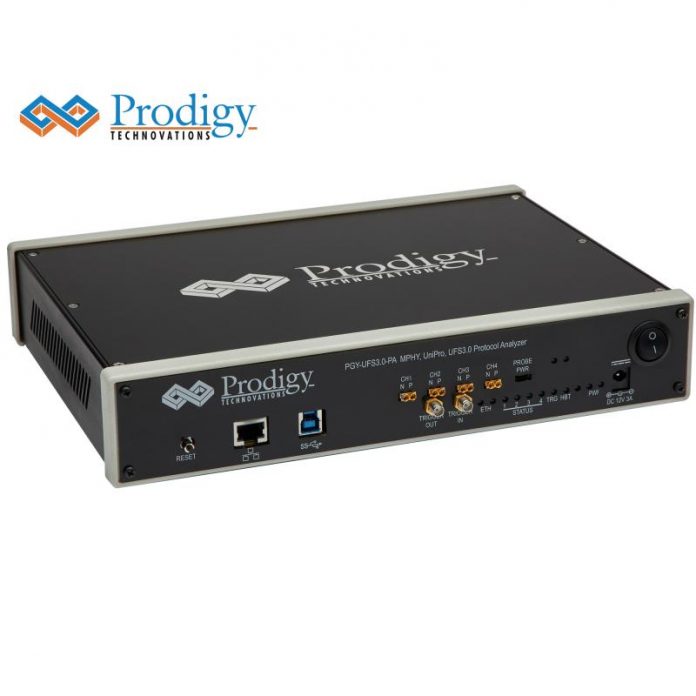 Forstinning (Germany), 08. May 2020 – eVision Systems GmbH authorized Prodigy Technovations Pvt. Ltd. Distributor for Central Europe announced the Universal Flash Storage Protocol Analyzer PGY-UFS3.0-PA. The PGY-UFS3.0-PA help the design and test engineers to develop and validate next generation flash memory interfaces for 5G, Mobile, Automotive, IOT, AR/VR applications. Deep Capture, Powerful Trigger capabilities and In-depth Analysis views give unprecedented insight into UFS 2.1/3.1, UniPro 1.61/1.8 and MPHY 3.0/4.0 Protocol layers.
The PGY-UFS3.0-PA Universal Flash Storage Protocol Analyzer provides USB3.0 and Gbe interface for host computer connectivity. Highspeed host connectivity enables continuous streaming of protocol data to host HDD and storage for a long period of time.
Multilayer View in PGY-UFS3.0-PA, provides the complete view of MPHY 3.0/4.0, UniPro 1.61/1.8 and UFS 2.1/3.0 Protocol activity in single GUI. User can easily correlate protocol activities between protocol layers for quick debugging cause for protocol errors.
PGY-UFS3.0-PA UFS Protocol Analyzer offers powerful hardware-based trigger capabilities and allows to capture the protocol activity at a specific event. The hardware-based algorithm computes the CRC values in real time and can trigger on CRC error. Triggering on any of the UniPRO layer protocol packet or Bad alignments (Improper marker values) reduces the debug time.
Key Features PGY-UFS3.0-PA
o Supports version MPHY 3.1/4.1, UniPro 1.61/1.8 and UFS version 2.1/3.1
o Supports PWM G1 to G7 and HS G1,2,3,4 A and B Series
o Supports one/two data lanes (2 TX and 2 RX)
o Flexibility to capture very large data using continuous streaming of Protocol data to host computer
o Solderdown active probe provide high signal fidelity
o Decoding at MPHY, UniPro and UFS layer
o Trigger based on MPHY, UniPro, UFS layer packet content
o Supports triggering in PWM and HS data rate speeds
o Trigger out signal at trigger event allows the triggering of other instruments such as oscilloscope
o Interface to host system using USB3.0 or Gigabit Ethernet Interface
o Flexibility to upgrade the hardware firmware using GbE interface provides easy field upgradation of FPGA firmware
o Decoded data packets can be exported to txt file for further analysis
o PGY-UFS3.0-PA Protocol Analyzer is light weight and can be deployed for on-site/ field tests
Pricing and Availability
The UFS 3.1 Protocol Analyzer PGY-UFS3.0-PA is now orderable.
Pricing and availability info via email: sales@evision-systems.de
eVision Systems GmbH
Jahnstr. 12
D – 85661 Forstinning b. München
Josef Ostermeier
Tel: 08121-2208-25
jostermeier@evision-systems.de
Website: www.evision-systems.de
Onlineshop: www.evision-webshop.de
About eVision Systems GmbH
eVision Systems GmbH supports companies targeting the development of microelectronics, with a substantial portfolio of measuring- and testing equipment, electronic design automation (EDA) development tools and services.
Since we founded eVision Systems GmbH, it has always been the goal to help young, innovative companies to enter the Central European market. It is common to all their products that the technology is unique, that they are more than an alternative to established solutions and that they enhance and complement existing design flows. Safety in the design, reusability and increased productivity as a result, are the success factors for their customers.
Acceleration of the simulation and verification of complex designs through formal verification, HDL simulation, Linting and Code Coverage are a few of the topics they are addressing with these emergent and trend setting products.
Together with ALDEC, Agnisys, Dediprog, Micron Advanced Computing Solutions, One Spin Solutions, Passmark, PEmicro Computer Systems, Prodigy Technovations, Sigasi und Total Phase , we work with customers throughout Europe.
You can find more information on our website: www.evision-systems.de or on our online shop www.evision-webshop.de.
About Prodigy Technovations
Prodigy Technovations (www.prodigytechno.com)is the leading provider of innovative protocol analysis solutions for mainstream and emerging technologies. The company's ongoing efforts include successful implementation of State of art standalone innovative and comprehensive protocol decode solutions as well as PHY layer testing solutions that span the serial data, telecommunications, automotive and defence electronics sectors worldwide. Prodigy Technovations is involved in Research and Development in the following area:
o Protocol Analyzer for leading edge technologies such as UFS 3.0, eMMC, Automotive Ethernet, SD, SDIO, I3C, SPMI & RFFE
o Probing solution for high serial bus technologies for speeds up to 32 Gbps
o Decoding high-speed serial bus packets in hardware
o Developing algorithm to continuously capture and manage high-speed data-logging
o Analysis of very large amount of data for debugging design issues.
This release was published on openPR.